Project
Summery

of Kanha Aangan
| | |
| --- | --- |
| Social Media | |
| Contact | +91 9824362802, +91 9924615179 |
| Rera No | PR/GJ/VADODARA/VADODARA/Others/RAA03881/291018 |
Unit
Details

of Kanha Aangan
| Type | Carpet Area (sqft) |
| --- | --- |
| A01 | 900 - 900 |
| A02 | 900 - 900 |
| A03 | 900 - 900 |
| A04 | 900 - 900 |
| A05 | 900 - 900 |
| A06 | 900 - 900 |
| A07 | 900 - 900 |
| A08 | 900 - 900 |
| A09 | 900 - 900 |
| A10 | 900 - 900 |
| A11 | 900 - 900 |
| A12 | 900 - 900 |
| A13 | 900 - 900 |
| A14 | 900 - 900 |
| A15 | 900 - 900 |
| A16 | 900 - 900 |
| A17 | 900 - 900 |
| A19 | 900 - 900 |
| A20 | 900 - 900 |
| A21 | 900 - 900 |
| A23 | 900 - 900 |
| A24 | 900 - 900 |
| A25 | 900 - 900 |
| A26 | 900 - 900 |
| A27 | 900 - 900 |
| A22 | 900 - 900 |
| A28 | 900 - 900 |
| A30 | 900 - 900 |
| A29 | 900 - 900 |
| A32 | 900 - 900 |
| A33 | 900 - 900 |
| A31 | 900 - 900 |
| A34 | 900 - 900 |
| A73 | 900 - 900 |
| A75 | 900 - 900 |
| B54 | 895 - 895 |
| B56 | 895 - 895 |
| B57 | 895 - 895 |
| A77 | 900 - 900 |
| B59 | 895 - 895 |
| A79 | 900 - 900 |
| A80 | 900 - 900 |
| B61 | 895 - 895 |
| B63 | 895 - 895 |
| B64 | 895 - 895 |
| B70 | 895 - 895 |
| A87 | 900 - 900 |
| B72 | 895 - 895 |
| A88 | 900 - 900 |
| A115 | 900 - 900 |
| A89 | 900 - 900 |
| A114 | 900 - 900 |
| A113 | 900 - 900 |
| A90 | 900 - 900 |
| A112 | 900 - 900 |
| A91 | 900 - 900 |
| A111 | 900 - 900 |
| A110 | 900 - 900 |
| A92 | 900 - 900 |
| A109 | 900 - 900 |
| A108 | 900 - 900 |
| A93 | 900 - 900 |
| A107 | 900 - 900 |
| A94 | 900 - 900 |
| A105 | 900 - 900 |
| A96 | 900 - 900 |
| A104 | 900 - 900 |
| A97 | 900 - 900 |
| A103 | 900 - 900 |
| A98 | 900 - 900 |
| A102 | 900 - 900 |
| A101 | 900 - 900 |
| A99 | 900 - 900 |
| A100 | 900 - 900 |
| A18 | 900 - 900 |
| B38 | 895 - 895 |
| B39 | 895 - 895 |
| B40 | 895 - 895 |
| B41 | 895 - 895 |
| B43 | 895 - 895 |
| B44 | 895 - 895 |
| B45 | 895 - 895 |
| A35 | 900 - 900 |
| B46 | 895 - 895 |
| B47 | 895 - 895 |
| B48 | 895 - 895 |
| B49 | 895 - 895 |
| B50 | 895 - 895 |
| B51 | 895 - 895 |
| B52 | 895 - 895 |
| B53 | 895 - 895 |
| A76 | 900 - 900 |
| A78 | 900 - 900 |
| B60 | 895 - 895 |
| A81 | 900 - 900 |
| B62 | 895 - 895 |
| A82 | 900 - 900 |
| A83 | 900 - 900 |
| B65 | 895 - 895 |
| B66 | 895 - 895 |
| B67 | 895 - 895 |
| B69 | 895 - 895 |
| A86 | 900 - 900 |
| B71 | 895 - 895 |
| B37 | 895 - 895 |
| B42 | 895 - 895 |
| A36 | 900 - 900 |
| A74 | 900 - 900 |
| B55 | 895 - 895 |
| B58 | 895 - 895 |
| A84 | 900 - 900 |
| A85 | 900 - 900 |
| B68 | 895 - 895 |
| A106 | 900 - 900 |
| A95 | 900 - 900 |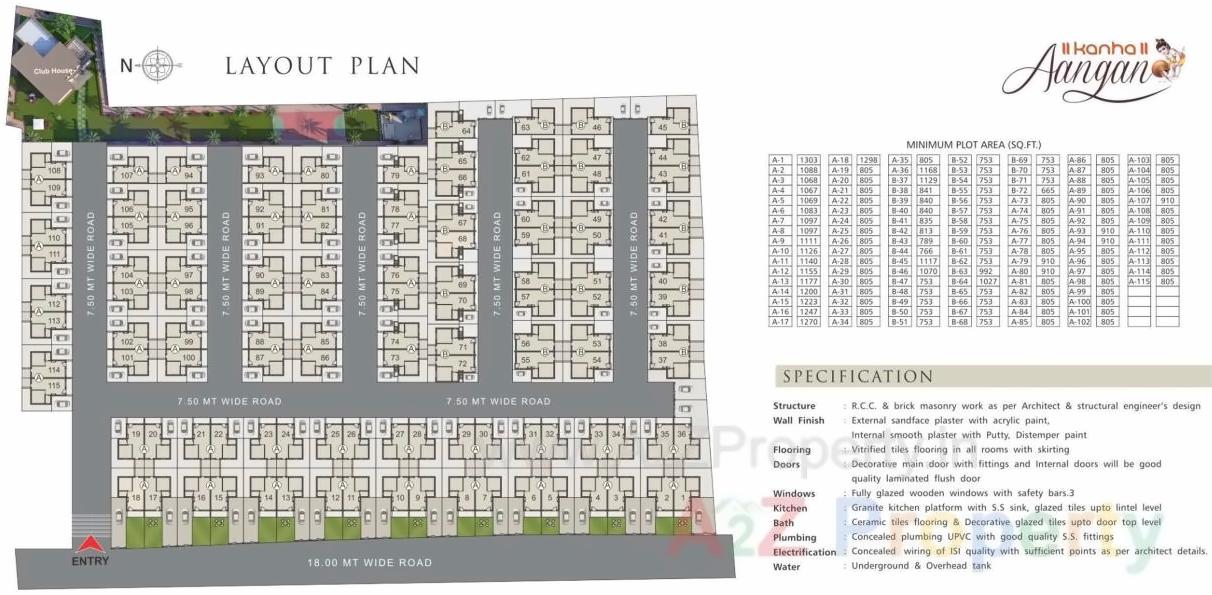 Amenities of Kanha Aangan
* Actual amenities may vary with displayed information.
Project
Highlights

of Sun Antilia

Fully glazed tiles and c.p. fittings

Elegant entrance door and internal are flash door with standard S.S. fittings

Concealed copper wiring with modular switches

2X 2 Vitrified tiles in all rooms

Graite sandwich platform top 8 ft length, Glazed tiles upto lintel level with Standard S.S. sink

Weather shade with two coat colour and Internal wall putty with acrylic distemper paints.

Concealed U. P.V.C. and C. P.V.C. plumbing with high quality fittings

R.C.C. earthquake resistance structure designed by approved structure engineer

Alluminum section anodized coated with mosquites net and safty grill
Map Location of
Kanha Aangan
Chronicle of
Kanha Aangan
Kanha Aangan rera registered project is located at Khatamba, Vadodara. Bungalows at Khatamba, Vadodara. Kanha Aangan project is being developed by Kanha Icon. Rera number of Kanha Aangan project is PR/GJ/VADODARA/VADODARA/Others/RAA03881/291018. As per rera registration Kanha Aangan project is started on date 2016-05-22 and planned to complete on or before date 2020-03-31.
Kanha Aangan project is providing amenities like Anti-Termite Treatment, RCC Road, Gymnasium, Children Play Area, Landscape Garden, Basketball Court, Jogging Track, R.O., Compound Wall, Entrance Gate, Senior Citizen Sitting, Clubhouse. Brochure of Kanha Aangan project is available for download.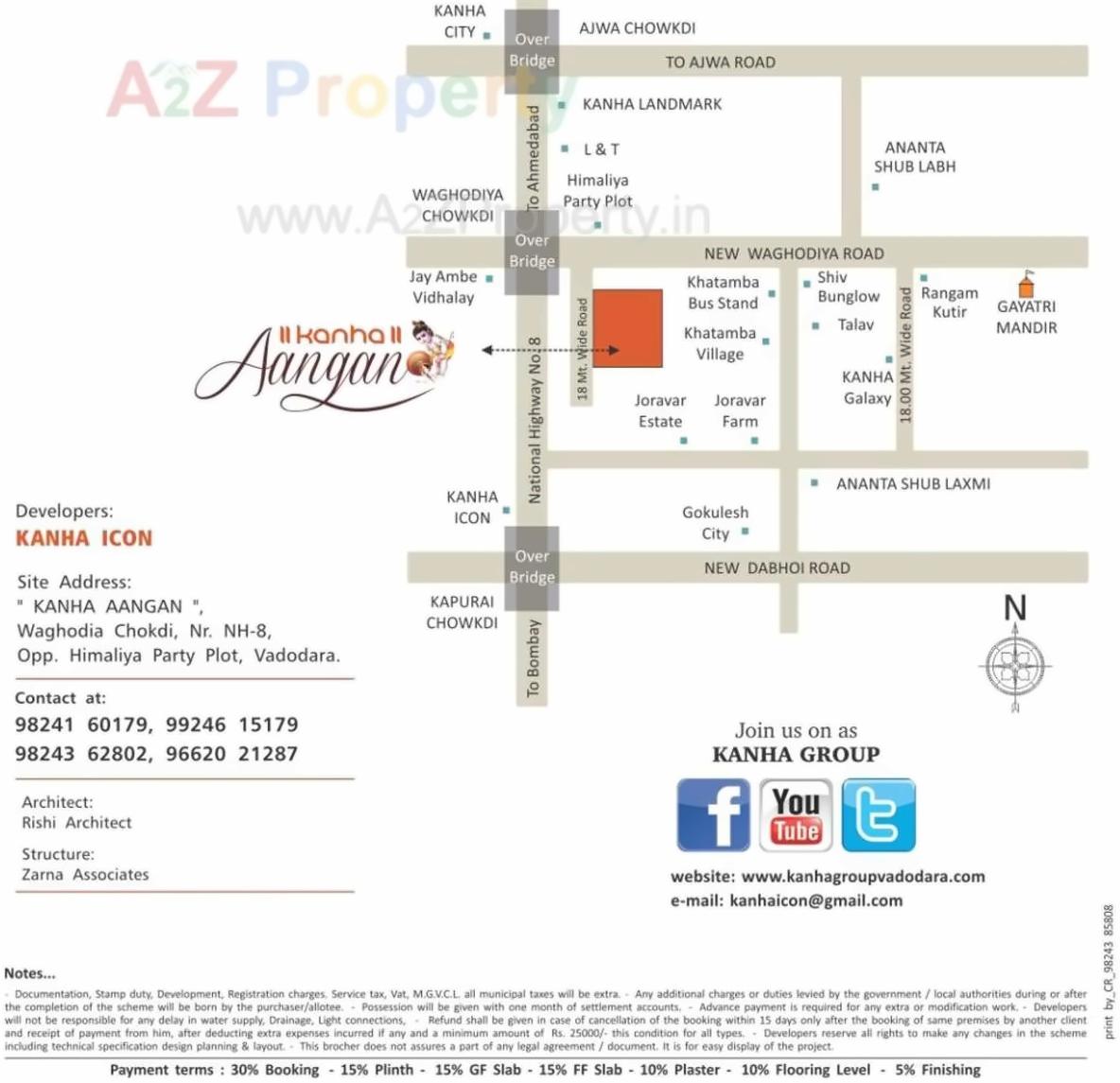 Project Details
Address

Kanha Aangan

Waghodia Chokdi, Nh-8, Opp. Himaliya Patry Plot, Vadodara

Contact

+91 9824362802, +91 9924615179

Email

kanhaicon@gmail.com

Share on
Promoters

Kanha Icon

Rera No

PR/GJ/VADODARA/VADODARA/Others/RAA03881/291018

Start Date

2016-05-22

End Date

2020-03-31

Area of Project

13,293.6

District

Vadodara

State

Gujarat

Project Type

Residential/Group Housing

Architect

Rishi Architect & Interior Designer

Structure

Zarna Associates

Disclaimer

The details displayed here are for informational purposes only. Information of real estate projects like details, floor area, location are taken from multiple sources on best effort basis. Nothing shall be deemed to constitute legal advice, marketing, offer, invitation, acquire by any entity. We advice you to visit the RERA website before taking any decision based on the contents displayed on this website.
Premium projects in Vadodara